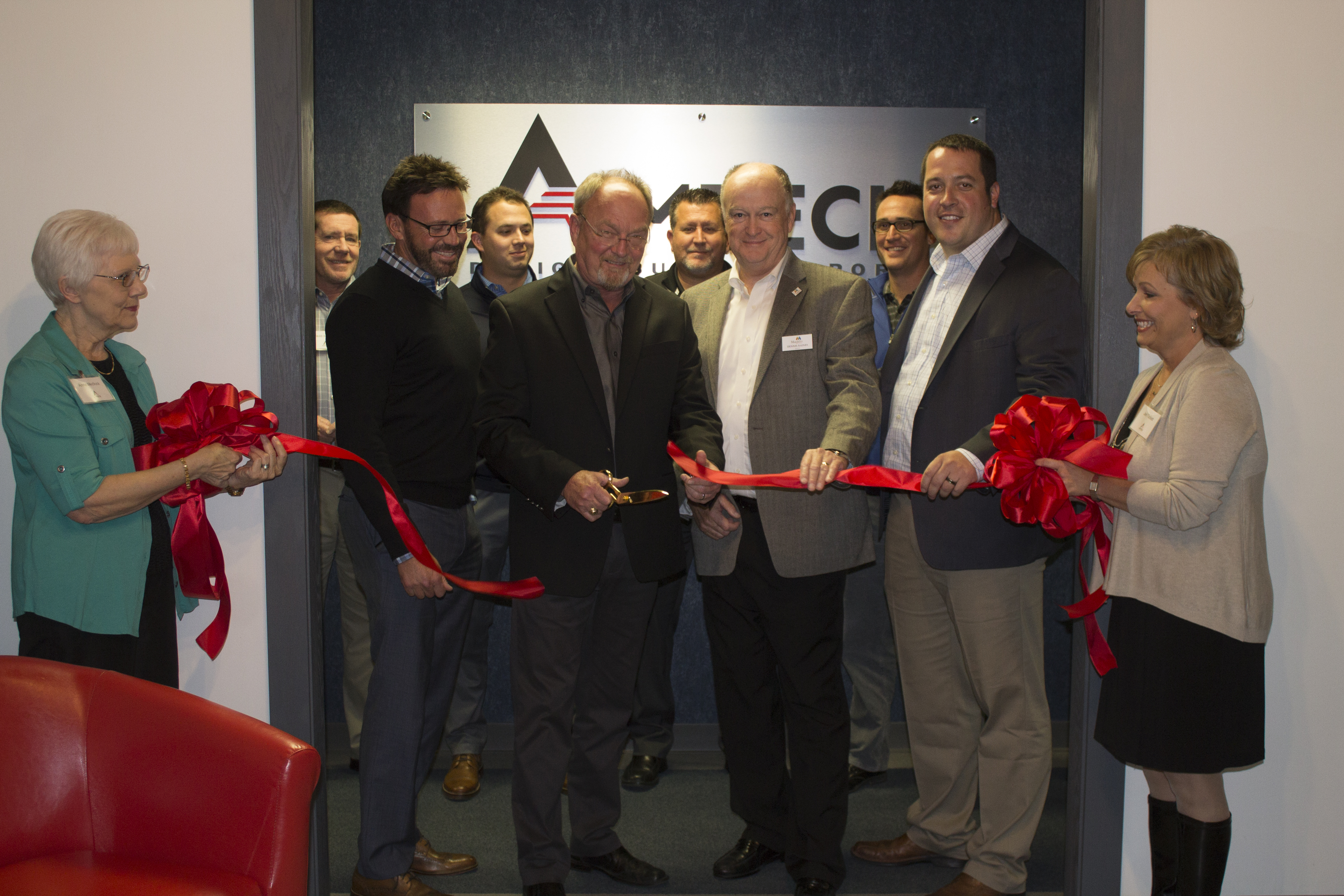 09 Nov

Amteck's South Carolina Office – All Under One Roof
Amteck's South Carolina Branch is all Under one Roof
On Thursday, November 9th, Amteck, LLC, celebrated the opening of their new Greenville office location at 15 Brookfield Oaks Drive in Greenville, South Carolina. The celebration began with a ribbon cutting and was followed with an open house event for attendees.
The South Carolina branch move follows Amteck's recent acquisition of Proformance Group, INC, (PGI) a South Carolina-based multi-industry multi-process electrical automation expertise business with over 40 years of experience working in the electrical & instrumentation design and construction field. The acquisition was announced in September of this year. This move allows for all of Amteck's South Carolina office employees to be located in one building.
Daniel Wetzel, Amteck's General Manager, stated, "We are very excited about having everyone under one roof at our new larger location as it allows us to expand  to meet the needs of our growing customers and customer base"
As a company-wide goal, Amteck strives to maintain customer satisfaction with every project and encourage the delivery of high quality work in a cost effective manner. These company goals have enabled Amteck to grow and establish themselves as a one of the most prominent electrical contractors in the Southeast.
Jimmy Von Hollen, Amteck's Business Development Manager, also expressed his excitement saying, "We are thrilled about this next step, and what we believe it will do for Amteck in Greenville. We are looking forward to creating new relationships and building upon current relationships."
Amteck's headquarters are located in Lexington, Kentucky. They have five locations throughout the Southeast, including their Greenville office.  Amteck specializes in electrical engineering and contracting, service and technologies, where they strive to deliver the latest in cutting edge technology within this industry. Amteck professionals have experience in industrial, manufacturing, process automation, commercial, institutional and recreational design.
About Amteck
In 1977 Amteck was founded in Central Kentucky with the belief that growth only comes by listening and responding to both clients and employees. Four decades later, Amteck has grown from a small electrical contracting firm to a national leader in the design/build support electrical contracting industry. Amteck specializes in facility growth expansion initiatives of companies that operate in the manufacturing, industrial, process, food, and beverage, hospitality, healthcare, distribution facilities, and commercial and institutional sectors.  The number one goal is the Safety of our Employees and maintaining our culture and core values: THE AMTECK WAY – SAFETY, QUALITY, & CUSTOMER SATISFACTION. (www.amteck.com)